The New Earth 
Goddess Temple
Awaken Your Goddess Power Within & Live Your Magic miniRetreat
This is not a regular women circle. This is monthly, full of healing, cleansing, letting go, joy, love and liberating on Soul level our Goddess within mini Retreat.  Beata Dzwigol, a founder of The New Earth Goddess Temple has been channelling those events.
Dear Sisters,
Often life is taking us in different directions, challenging us, obstructing us from our life purpose, soul mission and keeping us away from our feminine power and inner light.
Express your Soul, connect to your feminine wisdom, rise your vibration & heal your life on powerful The New Earth Goddess Heart Temple monthly mini-Retreat.
 So sorry Men are not invited! 🙂
"Open your wings my love
I know you are afraid
Open your heart my love
I will help you to feel safe
Open your wings my love
It's time for you to fly
This pain that you feel my love
Is opening you to life" 
Ayla Schafer
Busy fighting to survive, protecting and looking after children, family, we are becoming warriors, forgetting about ourselves, our softness, beauty and feminine wisdom.
Distracted by overwhelming daily stress, aches, pains, menopause, health challenges, anxiety, grief and fears, we struggle with life and forget about our natural healing abilities and strength.
The New Earth Goddess Temple (TM) is inviting you to heal your body, heal your heart, heal your wounds, to step into your feminine power, connect to the source – to your Soul, raise vibration, accept love and live life to the full.
We will guide you so you can unravel the secrets of happy life, learn the wisdom of the Universe, re-connect to your women ancestors, so they can pass the experience and deep wisdom on to you.
We will help you to re-connect with your Goddess Inner Power and the Light of your Soul, which will help you align with the law of attraction and feel better in your own skin, feel liberated and happy again.
Each month Beata will invite one, different Empowered Women to share with you her gifts, knowledge and experience to empower your life.

Each retreat will be a very unique, each time very interactive with different offerings. Each session will be tailored to the needs of attending Goddesses.
You may experience movement meditation to express your body, your needs, connecting to your senses, rejuvenate your libido which gently sparks your Soul and awakens the true Goddess within you. 
Chanting, meditations, heart opening sacred cacao ceremony, letting go ceremonies, deep healing, journaling, cards, sound journey. 
Inner child, shadow work, Soul retrieval, Ancestral Healing, twin flame ceremony, breathwork, drumming, yoga and more etc.
If you cleanse negative energy, destroy blockages, change your vibration, liberate yourself and align with your Soul purpose, you can attract anything into your life.
 By changing your vibration, you will attract the right people and situations to your life, radiate with Divine energy of happiness, health, peace and strength.
You will be strong enough to take responsibility for your life, direct it there where you want to be.
Ready to step into NEW YOU?
Ready to step into your Inner Power?
Celebrate the real you! learn about yourself again, rediscovering your strength and struggles, acknowledge and accept your inner power, let go, take responsibility of your life, love yourself and others, connect to the Goddess Within and receive Universal Blessing. 
Your Host Beata Dzwigol
Awaken Soul guided by the Source, Akashic Records Practitioner, Intuitive Spiritual Healer, The New Earth Temple™ Founder, DanceMandala Facilitator, Cacao Ceremony Facilitator, Reiki & Gong Master Teacher.
Beata is a member of Akashic Records Consultants International, LLC, Spiritual Workers Association and is working with people over the world helping them wake up the Light within themselves.
She will help you to care of body, mind and spirit. She will take you on a powerful transformative journey and introduce you to healing process on many levels. You will have a chance to understand your self-sabotage, forgive, let go of whatever is necessary and heal. It can help you to spread your wings, radiate out your beauty and happiness, re-find joy and live a fulfilled life.
You take full responsibility for integrating your experience into your own life. You can go as deep as you wish, the choice is yours to make.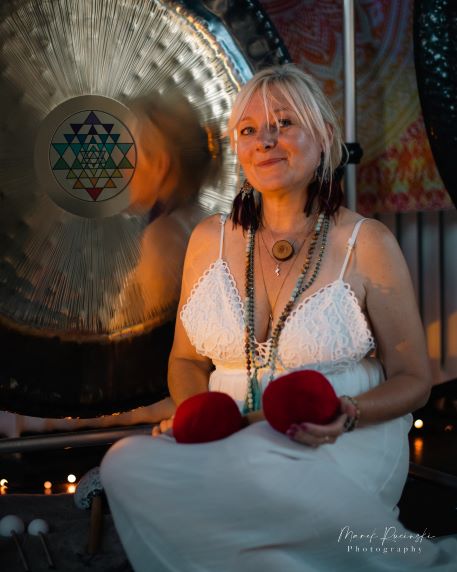 JOIN The Goddess miniRetreat
As Goddess Sisters, we will all provide a sacred, healing space for each other, embracing ourselves with hugs and love, allowing the healing process and sharing our emotions when needed. All that happen inside the space, stays inside the space. Groups will be small and very private. 
On this retreat you will experience chanting, cards, journaling, blessing, sound/gong journey, fire ceremony, Inner child, shamanic drum journey, process of heart healing and accepting love, Cacao ceremony and more.
We will focus on clearing and healing our heart, imbalances, stagnant energy, anxiety, major creative blockages, mental confusion, connect with acceptance of life and reality. Heavy energy on the chest often connected to loss, grief or bereavement.
Each mini Retreat will be very unique, never same.
THIS IS NOT A REGULAR WOMEN CIRCLE, THIS IS THE EVENT WHERE YOU WILL EXPRIENCE DEEP HEALING AND WORK WHILE CONNECTED TO THE SOURCE
Each mini Retreat will be guided by Beata Dzwigol,  who will be connected to the Divine Source and her special Guests – Empower Women. 
She tailor the workshop according to present needs attending Goddesses.
We recommend to dress comfortably in white (the colour of pure and symbol of being reborn, white includes all other colours).
You will leave the session with healing tools which you can use it for yourself, your friends or clients.
A cuppa with love will be provided.
EMPOWERED GUESTS
November – Gillian Turner from The Energy Wheel December – Mele Berretta from Mele Yoga                        January – Viktoriya Cherneva – Psychodelic Breathwork February – Sarah Weller – Sarah Weller Celebrant        March – Gillian Turner from The Energy Wheel 
For Booking and more information check EVENTS Page
Looking forward to see you there
with Love & Blessings
Awaken  Soul -Beata Dzwigol
"It was just fantastic! One of the best days in my life. Now I am using a healing tool which we were practicing and I'm amazed with the power of it. Thank you!"
 "It was the best cacao ceremony ever! Full of Divine healing while we were connected to Akashic Records, it was very empowering and unforgettable experience full of love. I'm still buzzing"
" Finally I was able to let go of my fears during the powerful fire ceremony. I feel lighter, more peaceful and looked after by The Universe. Now I have trust in my heart"
"For me the most powerful was to discover what is energetically holding me back in my lie. I feel blessed to heal this being surrounded by other Goddessess. The guidance was amazing! I am coming back definitely"
"Chanting, connecting to the heart, releasing, laughing, healing it was just what I needed! I feel, awaken! My senses are much receptive. I could do fly now!"
"An absolutely gorgeous scrumptious day. I felt like a real Goddess when I left! Highly recommend the retreats"
"I went to an unusual workshop last Saturday called "Awaken Your Goddess Power Within"… It is now Wednesday and I still feel empowered and invincible….Lots of healing and letting go and laughter too… No point in saying what you do in the workshop, you simply need to go and experience it yourself. Beata and Gillian were very caring and supportive."